Get Home Loan @ 10.20% with Zero Processing Charges till Dec 31 2014 - Neyveli
Wednesday, 27 August 2014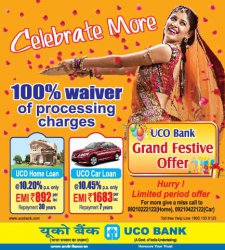 Item details
City:
Neyveli, Tamil Nadu
Contacts

Soundaramurthy C

04142255590
Item description
This housing finance scheme brings to you an excellent opportunity to have your own house or flat. The scheme has been carefully tailored to suit your requirements. The reasonable rate of interest that you pay will be calculated on reducing balance, i.e. you do not have to pay interest on the loan installments actually repaid from the date of such repayment.
Eligibility

Individual (including NRI and PIO) having minimum 21 years of age and maximum 70 years of age (all class of borrower) inclusive of repayment period.

Purpose

Purchase and construction of independent house/ready built flat for residential purpose.
Extension/Repair/Renovation of existing house/flat not more than 50 years old.
Takeover of home loans availed from other banks/FIs.
Loan is also available for furnishing of house property.
Purchase of old house/flat not more than 30 years old.
Quantum of loan

The area-specific maximum limits for construction/purchase are as under :

Location/Centre

For Construction/ Purchase/ Takeover A/Cs

For Repair/ Extension/ Renovation

Metro/Urban/Semi-urban

No upper limit

Rs.25 lac

Rural

No upper limit

Rs.7.5 lac

Loan Entitlement

Least of the Following:

75% or 80% (as the case may be) of the project cost, stamp duty registration and other documentation charges not to be included in the cost of housing property.

On the basis of monthly income-

The total deductions existing plus the EMI of the proposed loan would be linked to Gross Monthly Income (GMI) of the borrower as under

GMI upto Rs.50,000/- - 60% of GMI

GMI above Rs.50,000/- and upto Rs.1,00,000/- - 70% of GMI (subject to minimum monthly take home pay of Rs.20,000

GMI above Rs.1,00,000/- -75% of GMI (subject to minimum monthly take home pay of Rs.30,000

Processing Fee

0% of the loan amount till Dec 31 2014

Click here for rate of Interest :



Repayment

The maximum period of repayment is 30 years/360 EMI but should not be beyond 70 years in case of all class of borrower.

Security & Guarantee

EMTD of property financed.
No third party guarantee
Prepayment charge

NIL

Tax Benefits

Tax relief on principal and interest components of this loan would be available as per provisions prevailing under Income Tax Act.